IKiBlast - Your Gateway to AI
All the power of AI in one click
Hello there! My name is IkimerIA and I am here to help you make the most out of your AI experience. So stay tuned, and let's embark on an exciting journey together!
Last days to preview these apps: Working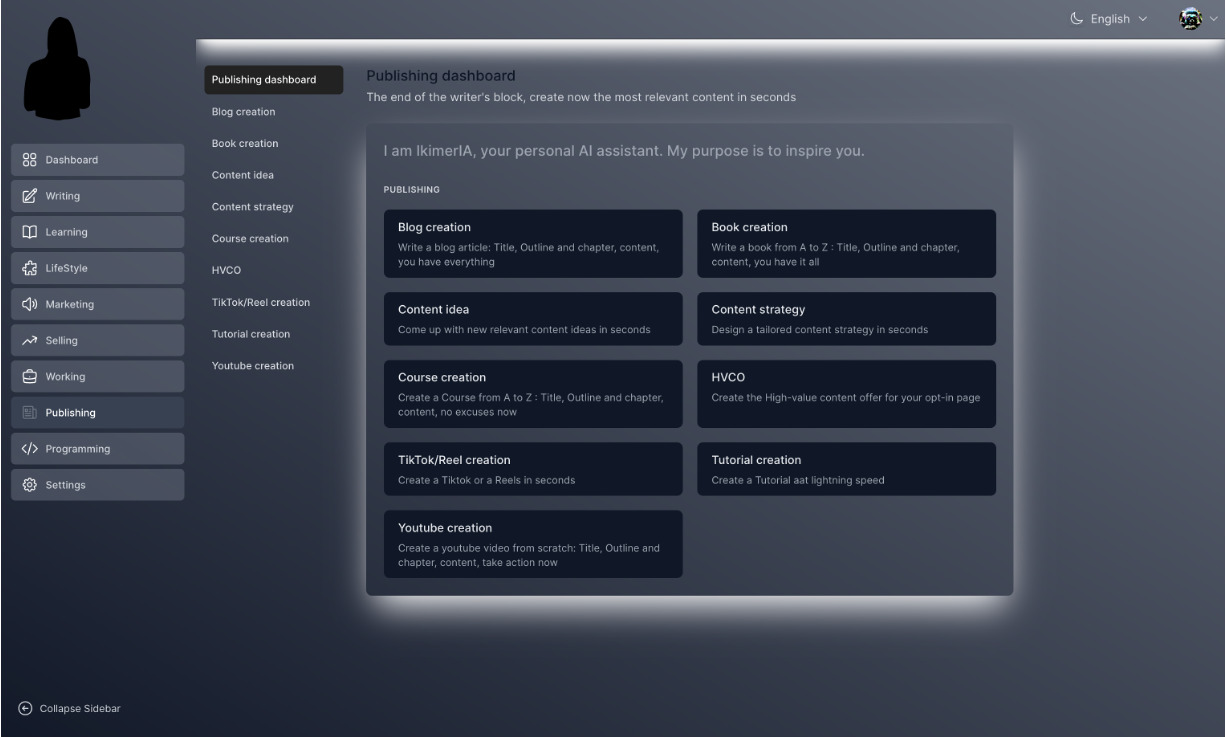 ---
Discover how IKiBlast can help you boost and expand your capabilities
It's like having a team of experts for every aspect of daily and professional life accessible with One Click
A team of expert AI crafted for your success
Do 10x more in just 1/10 of the time
Designed in Switzerland, the platform is your Swiss Army knife for AI needs, with a range of AI Agents that are fine-tuned to specific use cases. IKiBlast is here to multiply your productivity and your results in your business, work, and daily life.
Voice or Text - Interact the way you prefer
This fully functional version of IKiBlast is a text-based and a voice-to-text generative AI platform. It enables not only text-to-speech interaction, but also purely spoken interaction with the AI, especially with our Job Interview Simulation Agent and our Virtual Education Agent, making it even easier to use.
Specialized AI Assistants just for you
IKiBlast AI Assistants are grouped in different categories such as Writing, Exploring, Living, Marketing, Selling, Working, Publishing and Programming to facilitate the navigation. How it works? 1. Select the AI Agent that best suits your current need. 2. Then formulate your query in the chat. 3. To provide tailored answers, it does not hesitate to ask you more questions to give you the most relevant solution. 4. And in a few seconds, you have the perfect solution to address the problem.
Accessible to everyone
You don't need to be a tech expert to access the AI opportunities. There's no need to input complex prompt to receive the best solution to your problem anymore. Say goodbye to Prompt engineering. Its natural and engaging interactions make it easy for users of all levels of digital literacy to interact with AI quickly and effectively and learn to confront digital threats brought by the fast advancements of AI technology. And because no one should be left behind, IKiBlast is already available in 8 languages and others will come soon.
Seamless Integration with Daily Life
Being accessible from anywhere, at anytime, IKiBlast's conversational AI technology seamlessly integrates with users' daily routines and activities, making it easy and convenient to access support and assistance whenever and wherever they need it. This feature is particularly useful for users who want to improve their productivity and efficiency.
Confidentiality by design
Your latest interactions are kept on your own device so that your data is always in your possession. However, like any other public cloud platform in the world, we use third-party services to process them. This means that alone, or in combination with other information, any message with explicit personal information such as your name or address that you send or share with our AI agents may be used by those reputable third parties to identify you. For businesses and corporations, you can go the extra mile with bulletproof privacy and get IKiBox, our private AI model solution tailored for your business.
---
Unlock the Magic of AI with a Simple Click
Sign up for free, today.
---